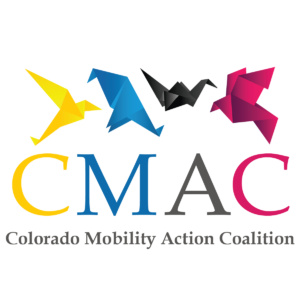 Colorado Mobility and Action Coalition (CMAC)
CMAC provides an effective support network for anyone in Colorado who works in coordination and/or Mobility Management. The group aims to promote mobility needs, issues, and accomplishments through education and awareness. Our conference calls and online group portal allow for information sharing such as funding and educational opportunities, workshops, resources, and other support functions. We conduct regular sessions at CASTA conferences, to which all are welcome.
Schedule of Upcoming Meetings:
March 26, 2020, 11:00AM – 12:00PM
CASTA Spring Conference, May 2020 (Colorado Springs)
July  23, 2020, 11:00 AM – 12:00PM
CASTA Fall Conference, September 2019 (Steamboat Springs)
November 26, 2020, 11:00AM – 12:00PM
Steering Committee:
Sarah Brooks, Mesa County
Chuck McCarthy, NWCCOG
TJ Burr, CDOT DTR
Moira Moon, CDOT DTR
Ann Rajewski, CASTA
CMAC Committee Members:
For the current list of CMAC committee members, please click the list below.
CMAC email list ongoing.xlsx – CMAC email list
Meeting Minutes:
January 23, 2020 – CMAC Meeting Minutes
How to get involved:
All CMAC meetings are open to the public. If you are a mobility manager in Colorado, or interested in Colorado Mobility services and resources, please contact the CASTA program manager Joseph Parks at josephp@coloradotransit.com or 303-839-5197 for more information about joining CMAC.