Transit: A Gateway to Outdoor Adventure
August 13, 2018
     "The mountains are calling and I must go." These words, spoken by the famous adventurer and outdoor steward John Muir, rent a space in the back of my mind. A large constituency of Coloradans share this same sentiment. However, the growing gap between wages and the cost of living make quenching the thirst for outdoor adventure more and more difficult.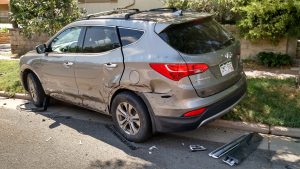 Last year, my family's second car was involved in a hit and run accident. Before you ask, nobody was in the vehicle and nobody got hurt. With a few calls to the insurance company and a couple of weeks later, we received a nice check for our totalled vehicle. However, this left us with one vehicle to transport an infant and two adults to daycare and work, respectively. Instead of buy another car to replace the old one, like most responsible adults would do, we decided to put that money toward buying our first house.
A year later, with the help of an Eco Pass to ride the RTD-Denver Transit system, provided by work, my wife, Mary, and I have been able to make the one vehicle household thing work. There have been sacrifices of course. Each movement has become calculated and little trips to the store or to the park are not as easy as they had been before the accident. Anything that has required the use of the vehicle had to be discussed and approved by the other spouse. In turn, we began doing a lot of things together; hiking, camping, going to the park, grocery shopping, etc. However, there are activities for which I like to do that Mary does not have the same passion. This is the story of one such occasion.
I enjoy running. I enjoy running in t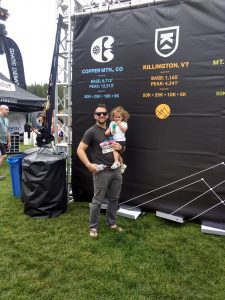 he mountains. Combine these activities with camping and competing and I am at the pinnacle of happiness. In enters the Under Armour Mountain Series Copper Mountain. This event took place on July 14th, 2018 at the Copper Mountain Resort here in Colorado. It brought in competitors from all over the United States to run the trails up Copper Mountain in four different distances: 50K, 25K, 10K, and 5K. I, being less of a masochist than others, signed up to run the 10K, which saw a measly 1300 foot elevation gain over the course of 6.2 miles. To put that into perspective, your talking about climbing 210 feet per mile. To make it even harder, the first 3.1 miles of the race climbed 1000 feet of the total elevation gain, which is about 322 feet per mile. But I digress. This a story about how transit helped me to get to this outdoor playground.
I had initially signed up for the race thinking Mary and Penelope, my 2 year old daughter, would accompany me to the race, so I reserved and paid for a US Forest Service campsite in Frisco, Colorado on Lake Dillon. However, they were not as keen on this adventure as I was. For a little context, I had already dragged my family around on several camping trips and road adventures this year; Mesa Verde National Park, Four Corners Monument and southwest Missouri to name a few. Needless to say, they are getting tired and I don't blame them.
So, I set out to embark on getting to Copper Mountain on my own. First I thought maybe I would rent a vehicle. This would have certainly been an easy choice, but expensive. Did I mention that we bought a house this year, leaving us with budget room for house maintenance, previously planned trips and other less frivolous endeavors? Anyway, I then set my sights on public transit, because you know, I work in transit and that option should have been more obvious to me than it was. Some of you may know, but others do not, that I work for a the transit membership association here in Colorado known as CASTA or the Colorado Association of Transit Agencies for those who need it spelled out.
I have to say, before I began planning this trip, I was not sure that I could make transit work. To my delight, I came to find out that the system was very much set up for such a trip as mine. Three transit agencies made this trip a success: RTD-Denver, Bustang (CDOT), and Summit Stage. Here is how I strung them all together to get from work on the afternoon of Friday, June 13th to Copper Mountain the next morning:
I set out at about 2pm from work to catch the RTD-Denver 16th Street Mall Ride at Civic Center Station. This took me all the way down 16th street to Denver Union Station where I caught the Bustang for a 2 hour ride up to Frisco.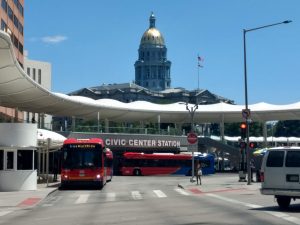 Bustang was the only transit trip for which I had to pay. They have a great app that can be downloaded on iPhones or Android phones. You can buy tickets and view route information directly from the app. Once at the stop, all I had to do was show the bus driver that I had bought the ticket on the app and I was set to ride.
I got off the Bustang at the Frisco Transit Center. From this stop you can hop on the Summit. Stage routes to get around summit county for other outdoor adventures. For my trip though, I was staying in Frisco for the night. I was going to try to use Uber or Lyft for my 1.7 mile ride to Heaton Bay Campground but it was prohibitively expensive. Unfortunately, Summit stage didn't have a line that went to my campground. So I walked. It was a pleasant walk and I got to the campground, set up camp and enjoyed some dinner well before sunset.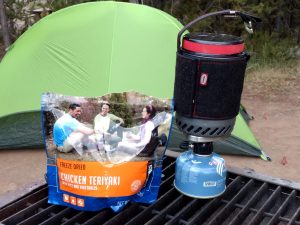 Saturday morning, I woke up around 5am to pack all my gear into my backpack and make the walk to the Holiday Inn where I would catch the Summit Stage Copper Mountain Line bus at 6:32 am.  But first a quick stop to get coffee and freshen up was in order. Luckily, a Starbucks was only a block from the bus stop. I bought an overpriced cup of coffee and reimbursed myself by using their bathroom to brush my teeth, wipe off some of the grime associated with camping and put in my contact lenses.
It was apparent on the the ride from Frisco to Copper Mountain that many passengers were in for an adventurous day. Six other passengers from various stops in Frisco were carrying some sort of outdoor sporting equipment and they all got off at Copper Mountain. As did I. It was a five minute walk from my bus stop in the Center Village of Copper Mountain Resort to the race check-in and festivities.
I made it to the starting line of the 50K race with five minutes to spare. With my 20 lbs.pack still on my back, I snapped a few pictures of the racers heading off for their epic adventures up Copper Mountain. Some seemed well prepared to tackle the 31 mile, 6000 foot ascent journey. An hour later, I started my journey up the mountain. It was a blast!
There is one factor that this whole trip hinged on: irrespective of the fact that transit was in place for the trip, had there not been lockers or a checked-bag drop at the race I would not have been able to use transit.Because I treated the trip as a Backpacking trip, I needed a place to stow my gear. Had I stayed in a hotel or brought a car, I would have had the luxury of a place to keep my valuables. I made sure from the race director that I would have a place to put my gear during the race, lest it be stolen, so I could use the transit system to get there.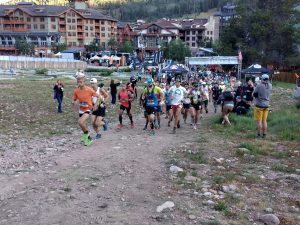 The return trip was much easier. I convinced Mary to bring Penelope to the race in the morning. They arrived about 15 minutes after I completed the race. We all enjoyed the race festivities and amenities that Copper Mountain Resort had to offer before heading back home at nap time (noon). Had Mary and Penelope not made the trip, I still could have gotten home via Summit Stage to Frisco Transit Center, where I could have hopped on the 4:00 pm Bustang to Denver Union Station, where I could have hopped on the B-Line with my Eco Pass to Westminster Station and taken Bus 72 home.
The overall cost of this trip is hard to determine since I already possessed much of the supplies I need to complete it. However, the one thing that is tangible is the cost of transportation. Had I opted for renting a vehicle, I would have paid around $70 just for the rental. Add another $30 for gas and your looking at over $100 to make the trip, for just one night! Bustang cost me $12 to get from Denver Union Station to Frisco Transit Center. The campsite was $30 regardless of transportation mode. Without adding the cost of food and registration for the race, I would say my trip was very inexpensive when we look at just transportation.
Overall the timing and logistics of the trip were spot on. I never felt rushed or anxious about whether I was going to miss a bus. It is because of the intelligent route planning and coordination among Colorado transit agencies that I was able to enjoy my experience utilizing the interconnected, multi-modal transit system that the state of Colorado has to offer. As a non-native to Colorado (should I whisper that) who sought and continues to seek the wonderful outdoor amenities and recreation opportunities this state has to offer, I am in a unique position to see that my story is not unlike others in the state, particularly those who live in the urban centers who lack easy, affordable access to the mountains. People flock to their favorite outdoor spots year-round and our transit system is there to help them do it.
Author- Joseph Parks