Get on Board for Public Transit
April 19, 2019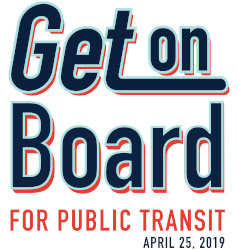 The public transportation industry is gearing up for the inaugural Get on Board Day on April 25, 2019.
The day is all about showcasing the value of and gaining support for public transit. With a unified voice, the industry will come together to highlight how public transit benefits people and communities.
We have a ton of resources (see below) to help you, well, Get on Board.
Great Ideas.
Looking for ideas on how to plan Get on Board in your community? No worries, we have you covered. Check out our list of 
suggested activities.
Shareables.
We've made it easy for you to spread the word about the value of public transit. Use any of our Get on Board 
social media shareables.
The Facts. Nothing but the Facts.
Writing that Get on Board press release or preparing remarks for your organization's leadership and in need of solid public transit facts? Check out our 
fact sheet.
NEW: A Web for Support.
Help build support for public transit by pointing your audiences to the 
Get on Board website
. Visitors can sign a petition showing their support, share stories about how their lives have been impacted by public transit, and learn about its value.
Who's In?
What's Up?
We want to hear how your organization is marking the day. 
Share with us.
Questions?